Back in the flash Era a lot of creators had the chance to put small Easter Eggs on movies.
These Easter eggs were discoverable by clicking on a certain spot of the movie or even running a small little game while the story goes on, It even changes the ending sometimes.
It sure was great and I really miss that nowadays
But thanks to Ruffle and Newgrounds, we have the chance to bring that experience again.
Today I just published a new small animation filled with Easter Eggs and is working flawless with Ruffle Emulation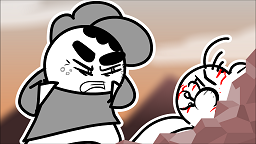 Check it out here: Think Mark Think but it's a flash from 2005 (newgrounds.com)
The movie has a few lines of AS2.0 of movie navigation and a few variables, it not so complex, so if you're making a new animation consider to add some clickable Easter eggs and share it as an swf on Newgrounds with Ruffle playback (always test it first)